Ways to Make Your Assisted Living Facility More Pet Friendly
5 August, 2022
0 Comments
---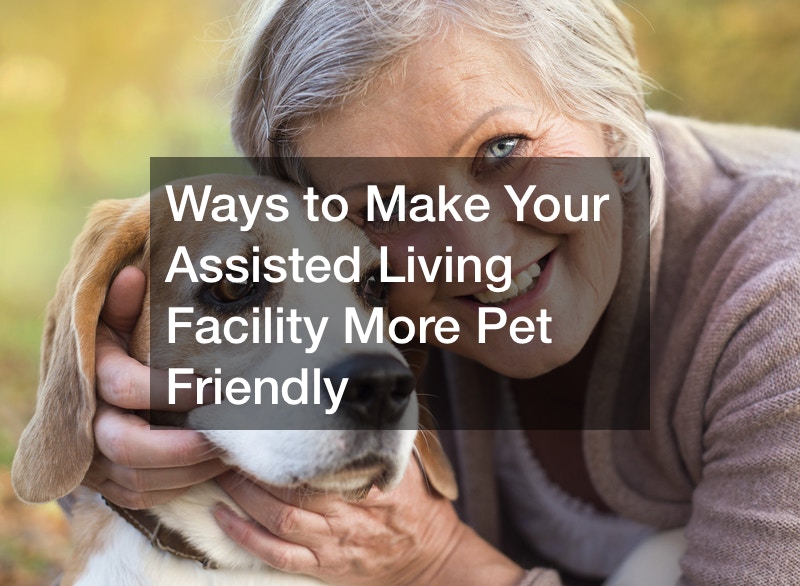 People have different reasons for bringing their pets to assisted living facilities. Seeing a beloved pet in need of care can win over the heart of even the most animal-phobic person. The feeling of isolation is one of the chief complaints from people in assisted living today. Pets can make all the difference for someone lonely and isolated. Pets help break down social isolation. The following explains ways to make your assisted living facility more pet friendly.
Establish a Pet Routine
If you are looking for a way to make your assisted living facility more pet friendly, look no further than establishing a pet routine. The routine will help make your facility more familiar for the pets and owners. One of the best ways it can be helpful is how it helps the pets adjust to their new home. Pets have different personalities. For this reason, they will not always get along together right away. Establishing a routine is one of the best things that you as a caregiver can do to help them become friends.
To help with this, you will want to get a few of the different pet breeds together. Give them time to get used to each other's style and presence. It can help improve your loved one's mind as they have the company of other animals. As well, pets can provide comfort and companionship for the elderly. The animal's company is a lot better than no company at all. For these reasons, it is essential to encourage these kinds of interactions. There are a variety of patterns that you can do with pets, each having its benefits. The best part is that a routine can be simple and easy to maintain.
It will depend on what you want from your pets and what kind of routine you want to establish for them. Selecting a good pet routine also comes down to your budget. Always take great care in how much you want to spend on pet care and medical services. It will also help to see how much the owner will cost to establish the routine. You can work with local veterinarian services if you embark on starting a pattern for your pets. These professionals have expertise in pet management. They will guide you on how best to establish a pet routine.
House-Train Your Pets
Since assisted living facilities' advent, animals have become a part of people's lives. You can still happily live in assisted living communities with your pet by your side. All it takes is to make your assisted living facility a lot more pet friendly. You also need to provide an enriching life for your pets. The best way to do this is by house training your pets. Several reasons why someone would house-train their pet in an assisted living facility. One reason is that the facility provides a single residence for all residents. Maintaining this type of living is convenient for the residents.
Another reason to consider house training your pet is to ensure that you are taking care of your creature as well as possible within the confines of an assisted living facility. Some people choose to house-train their pets in an assisted living facility since animals can be destructive if left alone. House training will prevent your pet from causing damage in assisted living communities. By training your pet, you will occupy them and give them something useful to do. The assisted living facility you are in can affect how you house-train your pet.
Facilities with low assisted living ratings may not know how to train their pets properly. Such communities may have a bad experience with the resident's pets. Once you know how to house-train your pet in an assisted living facility, doing it is easy and quick. The first thing you will do is make sure your pet has a proper place to relieve themselves. You can consider enrolling for pet training with a reputable vet near the facility for adequate and appropriate training. After pet training, they should not have problems performing their business there.
Be Creative With Pet Amenities
Few things in this world provide better feelings of comfort, love, and security than a pet. Making your assisted living facility more pet-friendly with minimal effort and upkeep is possible. All you need is some creativity and the proper planning ahead. Many older people cannot afford to hire a dog walker or an overnight sitter. The solution to not leaving pets alone is simple. It may be time to adjust your visiting policy to allow pets in assisted living facilities. Suppose you are in an assisted living facility where the weather is usually beautiful and warm. In this case, allowing the community's pets to live with their owners year-round might make perfect sense.
Another perk to allowing pets in an assisted living facility might encourage potential customers. There are some things you should consider when allowing animals in your facility. They include some concerns about vermin, allergies, and health inspections. You should always notify the local authorities about allowing pets in the facility as they might have other problems. It is best to ensure your facility is clean and free of potential pests. You can hire professional janitorial services to help you with this aspect of making your facility pet friendly. As an added precaution, it is wise to keep the number of animals to a minimum.
At any rate, you should always restrain pets with a leash due to safety and liability issues. It is also wise to provide small amenities like pet toys that will not break the budget constraints of your facility's management team. In addition, ensure you do not neglect your facility's lawns and landscaping. They should not be overgrown when looking for new or potential resident applicants. Proper property and landscaping maintenance is mainly due to safety and liability issues. Additionally, it is beneficial for the health and well-being of your residents. Having a happy customer base with visiting pets at your facility is excellent.
Train Staff and Residents on Pet Handling
Animals can become problematic in situations with poor supervision or inadequate living space. They may also be dangerous to residents or employees. Often these situations arise from a failure by staff or residents to follow odor/poopy control procedures. A pet-friendly community is one where all staff members and residents have proper training in pet handling. By creating a pet-friendly environment, facilities can address some challenges associated with caring for people with dementia. The presence of pets may also help a resident feel more secure and less isolated.
Developing a formal pet policy is essential if your facility decides to become pet friendly. The policy covers everything from what types of pets you allow and the breeds you prohibit to how residents should handle their pets. A senior care assistance facility should post the pet policy and include a copy in each resident's file. With this, everyone will know the facility's requirements concerning keeping their pets. Of course, pet care is not just a matter of policy and rules. It is also about leadership. For this reason, it is critical to have a strong leader who will facilitate interactions between staff and residents. Training should also be ongoing to keep the staff and residents up-to-date on pet handling techniques.
For example, the team should receive training on managing pets in heat or fearful of other animals. Customized animal handling training is essential for residents and staff. Each situation is unique and requires a customized approach. Suppose your facility does not have the resources or training available on its own. In this case, your local animal shelter may be able to provide some insight into pet issues that arise at assisted living facilities. Other topics to cover in training are such as pet-related documentation, how to clean after a pet uses the toilet, and how to handle medical emergencies.
Ask for Residents' Input on Pet Policies
Unfortunately, in most cases, assisted living facilities do not integrate pets well. Some facilities allow residents to bring in small pets, usually dogs or cats. Assisted living communities should permit animals as long as they do not disrupt and threaten other residents. Many assisted living facilities provide a private room for long-term care residents who have pets. It is essential to allow a pet-friendly pet to stay with its owner instead of being in an isolated room with other residents. Some residents may feel comforted by the presence of their pets. Others may be unable to bear away from the animal.
Pets can also create so many problems in assisted living facilities. These issues range from disruption among other residents to causing problems with staff members. With this in mind, assisted living facilities should consider some crucial things when allowing pets on their premises. The first one is to limit the number of pets per resident. You also need to decide if you want any restrictions regarding specific breeds or types of animals. It will help to allow residents to walk their animals throughout the facility. For some facilities, it will help to determine if you should ban certain types of animals or pets from the facility altogether.
Ultimately, it is up to an assisted living facility to do what they decide is best for their residents and staff members. You can develop a pet policy to promote a safe and healthy pet setting. Residents may wish to plan their time before bringing a pet to the community. Be sure to consult the residents about the policies they would love the facility to implement concerning creating a pet-friendly facility. By engaging the residents, you will know what they require for pet care. You will also ensure they are comfortable with the changes that may come with creating a pet-friendly facility.
Set Aside a Pet Area in the Facility
Pets offer invaluable companionship to the residents. They also add lots of joy and laughter back into the lives of staff members. To make your assisted living building more pet friendly, you will need to find a space where people can spend time with their pets. You may consider remodeling your assisted living facility to set aside a pet area. You can consult a remodeling contractor on how best to set aside a pet area. You will first want to decide which space you want to transform into a pet area. You can choose any room that is easily accessible from your common areas.
An ideal location is away from the main traffic flow. It would make sense for an activity room to become the pet area. The room is a center of activity for most assisted living facilities. A common area would also be a good choice. These are the spaces that are closest to the main entrance. They usually are well lit. In addition, they create a friendly atmosphere for the entire facility. If you have a laundry room or some other space that residents rarely access, you can also use that as your pet area.
To make your assisted living facility more pet friendly, you will need to start by making a place where people can spend time with their pets. Make sure that the pet area is comfortable and inviting for your residents and the pets they bring with them. To do this, you can hire a commercial remodeling service to undertake a renovation. These professionals will guide you on the considerations to take in setting aside a pet area. They will also give a quote to help estimate the project's cost. If your pets sleep in the facility, you will want to ensure that you have food and water available.
Consider making the grounds pet-friendly when purchasing or building an assisted living facility. Your residents will love it if you do. In addition, you will not have to make exceptions for those who cannot have pets in their homes. You might consider allowing pets to stay in residents' rooms as long as they have proper training. For a more personalized touch, you can also provide services for pets themselves.